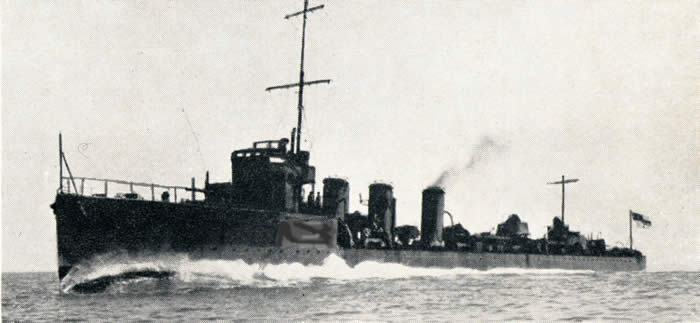 HMS Nessus was dived for the first time on Sunday the 2nd November 2008, for the first time in 90 years, a group of divers lead by , Leigh Grubb, of Bangor in North Wales, she said: "It was a great experience finding the wreck. We saw some shell cases dated 1901, 1902 and 1912 and some crockery bearing the naval crest."
The team were diving from our boat the MV Jean Elaine which is skippered by Andy Cuthbertson who used the marks given by wreck researcher Kevin Heath to get a good location for her. Mr Heath has also provided the back ground information on HMS Nessus for us.
HMS Nessus sank after being rammed by its own side during World War One off the cost of Wick in 1918.
HMS Nessus was a "M-Class Destroyer who was one of two ships that had been been escorting a cruiser HMS Amphirite while it lay mines in waters east of Start Point, Sanday for the Northern Barrage." It is also possible that one of the mines layed by HMS Amphirite could be responsible for the loss of U92 or U102 as they were both lost in the mine field laid on the 7th September. Both these Uboat were located and dived by groups of divers onboard the MV Jean Elaine last year.
"On September 7, 1918, the ships were returning to Rosyth naval base when they hit a fog bank and were zigzagging to avoid u-boats. Nessus got in front of Amphirite and was rammed at 3.02pm and suffered severe damage to its engine room. It happened 30 miles east of Pentland Skerries.
"Nessus was holed in the engine room and was unable to steam. It was decided that Maenad would tow her to Scapa Flow, the nearest harbour"
Overnight the weather worsened, Maenad stopped and Nessus started to take on more water.
Despite efforts by another destroyer, HMS Paladin to tow Nessus to Scapa Flow, it became too windy at Force 6-7 to continue, Nessus' pumps stopped and she began to sink.
All the crew were taken off safely and HMS Nessus sank at 10.25am on September 8, 13 miles south east of Pentland Skerries and lay at a depth of 68 metres.
HMS Nessus was a veteran of the Battle of Jutland 1916 when she lost five crew.
HMS Nessus also went to the aid of the sticken King Edward VII where she took the last man off , that being Captain MacLachin. The King Edward VII capsized and sank 3 hours after the captain left and only 9 hours after the explosion.